Mini Jammers are incredible little performers that dance to music on their own stage - complete with a brilliant lightshow - and they follow your every command. Tell your Mini Jammer to "Start dancing!", "Stop!", "Sit down!", or "Dance faster!" and it obeys every time!
Use the My Jammer web interface to give the dancer your own face or your friend's face, or even your dog's face! Style your Mini Jammer with the included clothed, hats, instruments and other accessories - or design your own. You are the star!
Mini Jammers seem to respond to your voice, but here is the secret: you control the Mini Jammer with your hands using invisible thread(included). It's as easy as tapping your hand to the beat! The secret is yours unless you choose to reveal it...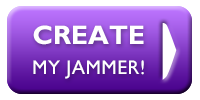 Mini Jammers Instructions